Great Wineries To Picnic At In Dry Creek Valley
Ah, summertime. Sun-drenched skies and stunning views are in abundance here in Dry Creek Valley, making summer the ideal time to take your meal outdoors. And unlike Napa Valley, where county regulations make it difficult to offer picnic facilities to their guests, many Dry Creek Valley wineries have some of the best picnic experiences in all of Sonoma County.  So whether you're packing your picnic in a wicker basket or a Trader Joe's carry-on, whether the contents are pre-packed gourmet or assembled in your kitchen, there's a Dry Creek Valley vineyard picnic area for every occasion… and a bottle of wine to go with it!
Below are seven Dry Creek Valley wineries that represent some of the best picnicking Dry Creek Valley has to offer, places loved by locals and seasoned travelers alike. So go on: pack that picnic basket with hummus, prosciutto, salami cuts, fromages, crackers, pita bread and fizzy Pellegrino. Pickles and stone fruits like peaches, plums or cherries or bramble fruits like blackberries or raspberries. Farmer's lunch sandwiches or melted paninis with a bag of chips, fruit slaws and pasta salad dishes. Maybe some tasty macaroons for dessert. Then, head out to Dry Creek Valley…
1 | Bella Vineyards And Wine Caves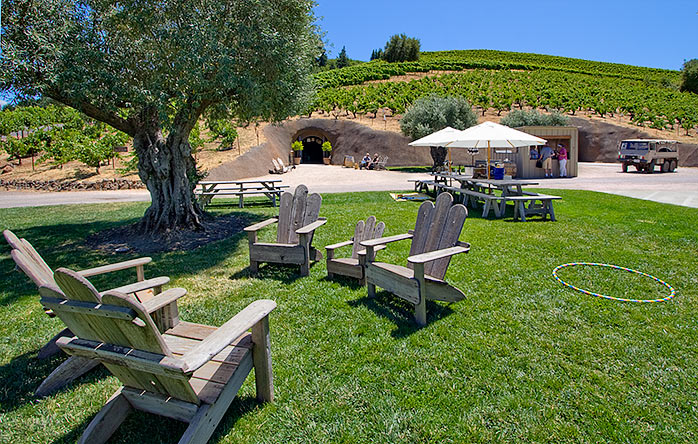 Perfect Picnic Wine: 2012 Bella Zin Late Harvest
With idyllic slopes and majestic vineyards in every direction, breathtaking panoramic views will be the backdrop to any picnic at Bella Vineyards. With unique property features such as their famed underground wine caves and tasting room tucked into a steep hillside beneath their prized Lily Hill vineyard, this is one Dry Creek Valley picnic stop you won't want to miss.
9711 West Dry Creek Road Healdsburg CA 95448; 707-473-9014; www.bellawinery.com
Perfect Picnic Wine: 2012 De La Montanya Solstice Felta Creek Vineyard
An apple orchard shades their picnic area and bocce court on this family owned/operated estate vineyard and winery. The tasting room is in a rustic barn with Old World charm and these grounds provide a more friendly, social atmosphere for you prospective picnic-goers; picnicking here doesn't feel so much like being outdoors as it does feel like hanging out in a friend's backyard or patio….albeit, one that serves amazing wine!
999 Foreman Lane Healdsburg CA 95448; 707-433-3711; www.dlmwine.com
---
---
Perfect Picnic Wine: 2013 Dutcher Crossing Sauvignon Blanc
For a personal vineyard experience and the perfect spot to whittle away summer afternoons – or any afternoon – you can't go wrong with Dutcher Crossing Winery. With panoramic vineyard views and a covered picnic area, Dutcher Crossing Winery puts you is right in the beating heart of Sonoma wine country. Sit casually, take your time, put life on pause, and enjoy a place where distractions gradually disappear and you can savor your picnic in serenity.
8533 Dry Creek Road Geyserville CA 95441; 707-431-2700;www.dutchercrossingwinery.com
Perfect Picnic Wine: 2013 Sauvignon Blanc, Bevill Vineyard – Lambert Bridge
At the edge of Healdsburg, along the eastern hills ion a narrow country lane connecting the farms and vineyards of the Dry Creek Valley, you'll find the gorgeous grounds belonging to the family-owned, Lambert Bridge Winery. With its cozy, barrel-lined tasting feeling room, friendly staff and one of the most tranquil picnic gardens for picnicking in Dry Creek Valley, you'll be hard pressed to find a better place to enjoy your picnic
4085 West Dry Creek Road, Healdsburg; 707/431-9600; lambertbridge.com
Perfect Picnic Wine: Preston 2013-Sauvignon-Blanc or Preston 2012 Viognier
There is a rustic beauty to these picnic grounds which are part of organic, diversified, family farm. Owners Lou and Susan Preston are organic farmers in addition to being top-notch wine producers and many of their products including olives, pickled veggies, seasonal organic produce and hearth breads baked in the winery stone oven are available for purchase in the tasting room – just in case your picnic needs some accoutrements. Don't forget to take a tour of the grounds where you'll see the lambs roaming about the property along with some very friendly felines.
9282 West Dry Creek Road, Healdsburg; 707/433-3372;prestonvineyards.com
Perfect Picnic Wine: 2011 Seghesio Old Vine Zinfandel
A Bocce ball court + picnic tables + plenty of sunshine = wine not? This is a relaxed, inviting, casual atmosphere from the tasting room to the shaded picnic and play area where you can enjoy your wine purchases. There are also a mouthwatering array of charcuterie offerings just in case you want to add to that picnic bounty. The perfect venue to picnic, sip and play… all the ingredients for an amazing afternoon here in Dry Creek Valley.
14730 Grove Street, Healdsburg; 707/433-3579; seghesio.com
7 |  Gustafson Family Vineyards
Perfect Picnic Wine: 2013 Estate Rosé of Syrah
A short 10-minute drive from the Lake Sonoma Dam, Gustafson Family Vineyards is a destination that embraces the natural beauty of the redwoods, the largest Madrone tree in Sonoma County, and 30 mile panoramic views. The winery, barrel cellar, and tasting deck, all set in the heart of the vineyard, invite you to linger with your picnic and enjoy their wines while enjoying perhaps, the best view in all of Dry Creek Valley.
9100 Stewarts Point-Skaggs Springs Rd. Geyserville CA 95441; 707-433-2371; www.gfvineyard.com
---
Want to plan your own Dry Creek Valley Itinerary? Visit our Interactive Winery Map where you can sort by varietal and amenity!
And follow us to stay up to date with all things Dry Creek Valley: