We all know that the Holiday season is filled to the brim with cheer, family, friends, Holiday parties, UPS deliveries, and festively shaped cookies but it also has its fair share of crowded parking lots, wrapping presents, fruitcake, and broken heirloom ornaments. Lucky for us all, there's Dry Creek Valley wine to fit seamlessly into your perfect (or not so perfect) Holiday season. Here's our expert advice –
---
Wine for Your Office's Ugly Sweater Party
Who knew that finding a perfect ugly sweater while still looking presentable would be so complicated? Thankfully, picking the picture-perfect wine for your office's party won't be! Peterson Winery bottles come dressed with hand sketched animals – doesn't their 2014 Dry Creek Zinfandel look especially festive, and bonus, it's delicious!
Wine for Wrapping Presents
There are those who love to wrap up presents with ribbons and bows while others struggle to keep track of the scissors and tape. We think a crisp and refreshing, Sauvignon Blanc like that from Quivira Vineyards or Comstock Wines will keep your wrapping paper edges clean, your station organized and humming along to whatever carol currently on the radio.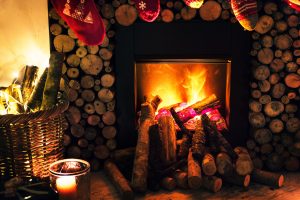 Wine for Sipping Fireside
Maybe you're in the living room of your ski condo high in the mountains fresh off the slopes, maybe you're on your own couch at home while the kids are watching a holiday movie, no matter your exact situation we can practically feel the warmth of our favorite fleece blanket and a glass of spicy, fruity and comforting Zinfandel in our hand. Try Dry Creek Vineyard's Old Vine Zinfandel or any of Saini Vineyard's multiple Zins to keep you extra warm this season.
Wine for Baking Cookies
Sugar cookies, snickerdoodles and chocolate chip – oh my! While you're getting those cookies ready for the neighbors' cookie plates, you'll feel extra jolly as you sip on a buttery and smooth Chardonnay. For a classic California style, try the Home Ranch Chardonnay from Sbragia Family Vineyards. Or if you're interested in a different style, you'll love the newly released and highly acclaimed Chardonnay from Zo Wines . Just don't forget to set the cookie timer!
Wine for After Christmas Eve Shopping
T'was the afternoon before Christmas and all through the town, the cars were a rushing and racing around. The parking lot was packed full – oh there's a spot there! No wait, that's a smart car, how is that even fair? You went in and grabbed the last thingamabob on your list, got in the line, and waited 20-minutes for an understandably less-than-cheery cashier to assist. Now you're home, you made it through all those troubles. Surely what you need is a glass of Dry Creek Valley bubbles! Take a breath, look around – kids in bed, presents wrapped, all of this and more you've achieved, trust us, a glass of Amista Vineyards or West Wines is just what you need.  "Raise your glass for a cheers," you say with delight. "Happy Christmas to all, and to all a good night!"
Wine for your Holiday Dinner
When planning that holiday dinner, you need to make sure have enough wine to go around! Why not supersize the wine to go with that Prime Rib? Magnums and other large format bottles make for a gorgeous and delicious centerpiece that always come with a story. All of our wineries offer large format bottles of their most favorite vintages. Just ask and you'll be delighted by what's inside! Our favorite magnums come from Bella Vineyards + Wine Caves or any of those found in these amazing gift boxes from Lambert Bridge Winery.
---
How are you pairing your wines this holiday season? Share with us using the hashtag #drycreekvalley for a chance to be featured on our social media channels!
JOIN THE CONVERSATION:
 / drycreekvalleywines     
 / drycreekvalley       
/ drycreekvalley
---