There's nothing quite like sipping a crisp, rose-hued wine at a picnic along the banks of Dry Creek Valley on a sunny day. Pretty in pink and always refreshing, rosés are some of the easiest wines to fall in love with. Understanding them, however, requires taking a dive into the process of how wine is made.
Photo Credit: Kim Carroll
Rosé is not a grape variety, but a style of wine that is made from red wine grapes. The juice of almost all red grapes is clear, so wines develop their color from the pigment in the grapes' skin. In the process of making a red wine, the juice will often spend weeks fermenting with the skins of the grapes. To achieve the pink shades found in rosé, a wine is kept in contact with the grape skins for just hours.
---
Speaking Rosé's Language
Maceration – This is the process by which the pigment, tannins and flavors from the grape's skin and seeds are leached into the wine through soaking. In this method of making rosé, wine is left in contact with the skins until the desired hue is reached, and then the whole batch is made into pink wine. When this technique is used, it typically indicates that the grapes were grown and harvested with the goal of making a rosé.
Saignée – French for bleeding, in this method, rosé is a byproduct of the red wine-making process. After a few hours (anywhere from 2-20, usually) a portion of the wine is drained off of the grape skins, resulting in a small amount of rosé wine and a more concentrated red, with a greater ratio of skin to juice.
Blending – A third method of making rosé is by blending a small portion of a vinified red wine into a white wine to impart color and flavor. Though uncommon in still wines, this is how many sparkling rosé wines are made.
---
A Rose By Any Other Name
You may know or have correctly guessed that the word rosé is French. Here are some other names you might see on a label instead.
Vin Gris – Another French name for rosé, which literally translates to 'gray wine.' Red wine grapes are also called black grapes, so following that logic, the name makes sense.
Rosado – Portuguese and Spanish, but sometimes used to label American wines made from grape varieties that originated in these countries.
Rosato – Italian, used when the grapes in the wine are of Italian heritage.
White Zinfandel – Though zinfandel has been made into rosé wines in California since the 19th century, the style most came to know in the 20th and 21st century is sweet and inexpensive. The story goes that, some 40 years ago, Sutter Home was making a dry rosé, but the yeast stopped fermenting a batch of the wine (known as "stuck fermentation"–a problem that winemakers can now remedy). The resulting wine was sweet and quaffable, and became an instant bestseller. Recently, more winemakers have been reviving a dry style of rosé made from zinfandel. Some choose to call their product White Zinfandel, while others opt for "Rosé of Zinfandel." Pedroncelli Winery has made a dry rosé of zinfandel from Dry Creek Valley for almost 60 years!
---
The Pink Wines of Dry Creek Valley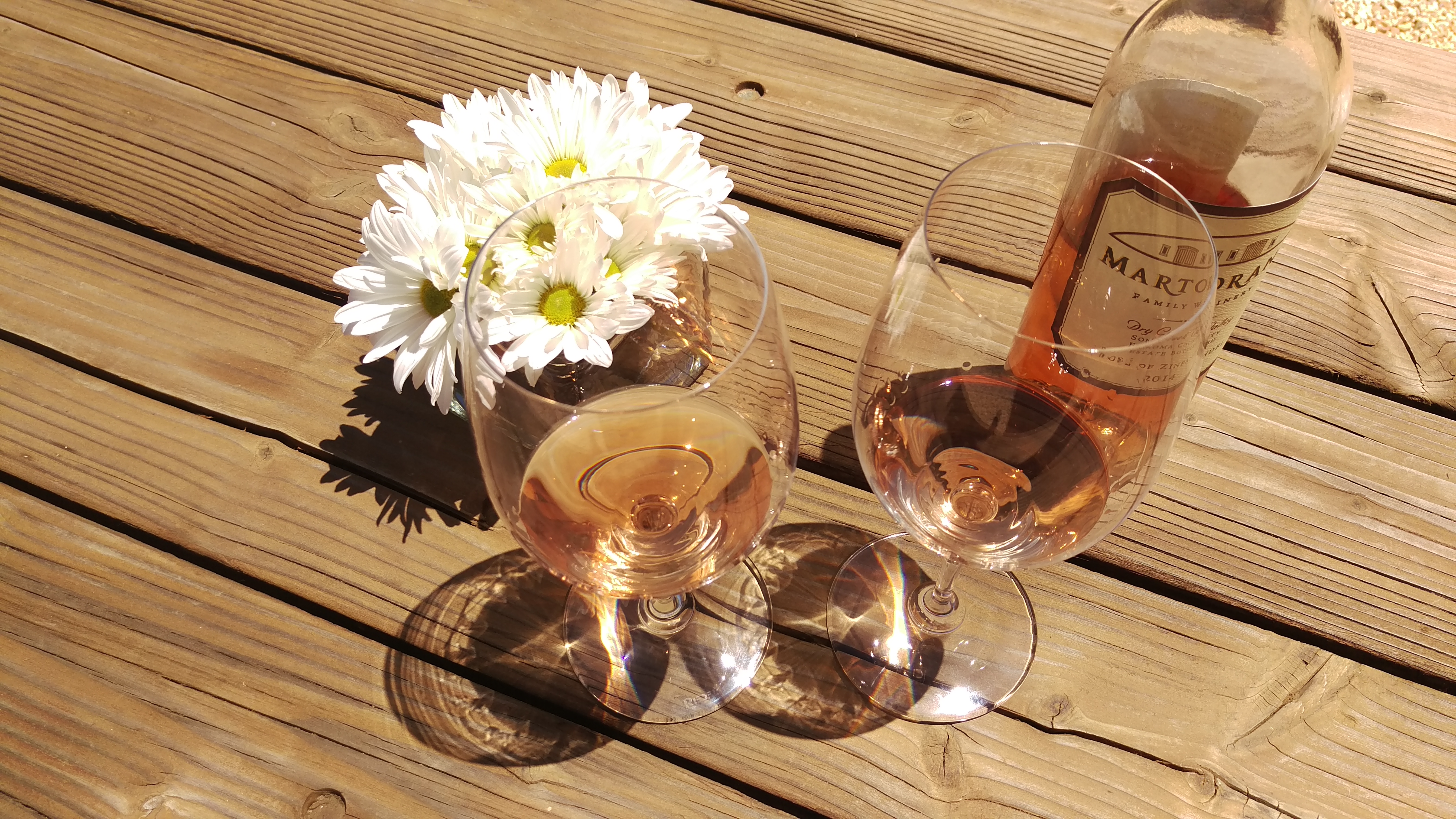 Dry Creek Valley is celebrated for many different styles of rosé, because so many different red grapes thrive here. Two of the most common styles are described below.
Zinfandel Rosé – In Dry Creek Valley, these wines are complex and usually dry, hand-crafted small-batch wines. Decidedly Californian in style, these sunny sippers are fantastic picnic accompaniments, and taste great alone or with anything from hot dogs to salmon rillettes.
Provençal-style Rosé – The only country drinking more rosé than the U.S. is France, and Provence is one region most known for its mineral-driven, pale pink palate pleasers. To make these wines, they use a blend of red grapes commonly found in the Mediterranean–grenache, syrah, mourvedre, cinsault, carignan, and more. Thanks to a similar climate, these grapes grow magnificently in Dry Creek Valley, where you'll find them in beautiful red blends and tasty French-influenced rosés.
Stay in the know of all styles of Dry Creek Valley wines and follow us today: