Though Dry Creek Valley grows more than than 30 different grape varieties, at the heart of our appellation is zinfandel. Dry Creek Valley's AVA, just 16 miles long and two miles wide, is home to one of the densest concentrations of old vine zinfandel in the world.
Zinfandel has been called America's heritage grape, and with good reason. While the grape came from Europe, it was given its name in the mid-19th century in the United States. First planted in California in 1852, it quickly became the most widely-grown grape in the state. During this time, European immigrants settled in Dry Creek Valley because they recognized a terroir, landscape, and climate similar to that of their homelands. Frenchman Georges Bloch planted the first vineyard in Dry Creek Valley with zinfandel grapes in the 1870s. By the 1880s, zinfandel was the dominant grape planted across nearly 900 acres of the region.
After phylloxera destroyed most vineyards in California in the 1890s, some Dry Creek Valley winegrowers replanted their zinfandel on the pest-resistant St. George rootstock. Several of these grapevines planted in Dry Creek Valley more than 100 years ago have survived and continue to produce wine today.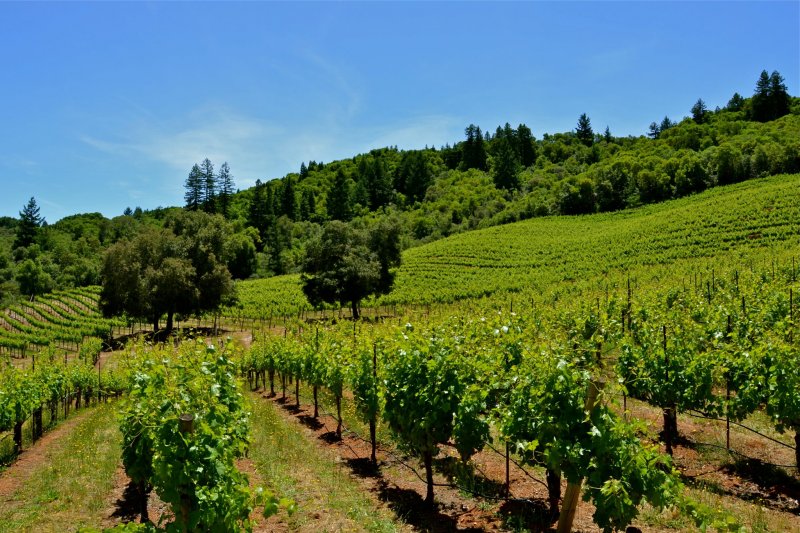 Zinfandel was first prized for its vigor–it will grow abundantly with minimal maintenance for the production of bulk wine. After Prohibition was repealed, the most popular drinks in America were bulk fortified sweet wines. In the five decades after prohibition, many former vineyards were replanted to orchard fruit.
Gradually, the nation developed a taste for fine wine. Not everyone considered zinfandel for use in the production of fine wines. Prone to uneven ripening and overabundance, it takes tremendous time and skill to tend the grapes that make the incredible, age-worthy zinfandel we find in Dry Creek Valley.
Many ambitious winegrowers in Dry Creek Valley shared a love of zinfandel and championed its potential. Thanks to the growers and winemakers who inhabited the Valley in the early days, and those who arrived in the 1970s at the beginning of California's wine renaissance, Dry Creek Valley set the bar, worldwide, for premium zinfandel.
Today, nearly 2,400 acres of zinfandel are farmed in Dry Creek Valley. Many of the original families continue to farm the vineyards, with successive generations producing world-class wines based on the traditions of their fathers and grandfathers. Visitors can taste the fruits of this labor at more than 60 wineries across the valley, each producing a unique style of zinfandel that reflects a sense of place and the vintners' own style.
Dry Creek Valley underscores zinfandel as a premium winegrape capable of producing wines that are food-friendly, cellar-worthy, and appealing to consumers and sommeliers.